The Egg Vertical Transportation Project by Architectural Resources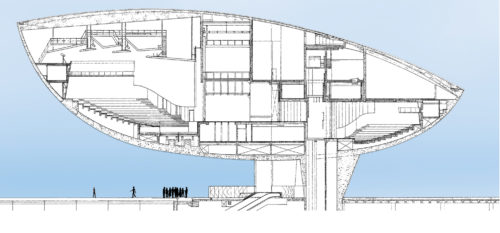 Design Brief
Project Location: Albany, NY
A|r performed the assessment, design, and construction administration services for six custom-designed elevators at the New York State Capitol's Performing Arts Center. The ongoing modernization of these elevators consists of replacing all relay logic control equipment with microprocessors, refurbishment of all door operator equipment, new signal fixtures, new cab interiors, new hoist, governor and compensation ropes, new electrical service, new fire detection system, hoistway ventilation, and pit floor drains. Elevator design included the following:
Four 400FPM round passenger elevators serve eight landings with twenty-five openings, and a total travel distance of 125'-9".
The one-of-a-kind, 20,000 lb., 75FPM hydraulic elevator stage lift utilizes a single in-ground jack with an overall travel distance of 100'-4". Four hydraulic power units provide lifting pressure to a single cylinder. For special performances the opening height can be increased to 22'-5".
The hydraulic platform lift is moved by two in-ground hydraulic jacks powered by one hydraulic power unit and serves six levels with a total travel distance of 25'-4".