Trico Complex by Architectural Resources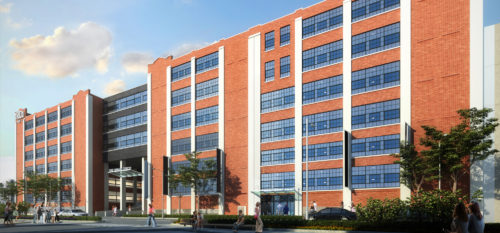 Design Brief
Project Location: Buffalo, NY
A|r has partnered with Krog Group to develop a new vision for the Trico Complex, a 500,000 sf former manufacturing facility, located prominently on the edge of the Buffalo Niagara Medical Campus. Our team is transforming this nationally and state recognized historic structure into a new, mixed-use facility consisting of a hotel, loft-style apartments, commercial and retail space with indoor parking.
One of the greatest challenges of the project was the the ad-hoc development that occurred during the original life of the complex – The building consists of five connected structures in varying states of disrepair. A|r worked closely with Krog Group to push the limits of the design to fulfil the project program while also preserving much of the existing structure. This challenge provided a launch point to highlight the unique nature of the complex.
A design approach that carved a new inner courtyard was made possible through the surgical removal of part of one of the buildings. This courtyard extends both pedestrian and vehicular access inward from the street, and creates a sense of destination, providing an intuitive and inviting entry sequence for facility users.
Once home to the largest employer in Buffalo, the rebirth of Trico is a significant milestone in the city's downtown revitalization.